In our current era, Cloud desktop hosting has been evolving to become a viable investment for many businesses to use. Whether you are a marketing or security specialist, taking advantage of the Cloud can be the right thing to do for your company.
In this article, we will be explaining the benefits of using Cloud desktop hosting over on-premise desktop hosting, alongside comparing the drawbacks.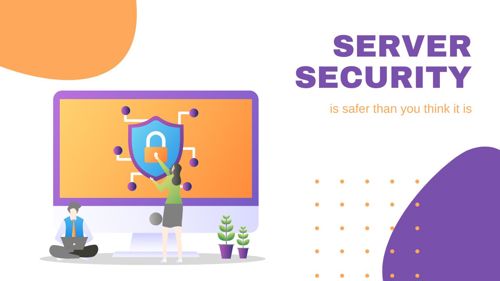 The Benefits of Using the Cloud
99.9% Uptime
99.9% uptime is a common guarantee offered by many Cloud hosting companies. This promise guarantees that your server will only face a maximum of 8.76 hours of downtime per year. This means you can go a whole year using the server without worrying that you'll lose access to your data for more than a day.
This downtime usually doesn't come in 8-hour periods once a year though. Typically, this downtime is from scheduled maintenance, updates or just power faults but you can rest assured knowing that no matter what happens, these companies will have your data managed securely.
Shared Usage
In an environment where multiple employees are working on the same project, being able to share files quickly with no issues is very important. In most cases, they may use a messaging application, such as teams, or they may just email the files to each other. The main issues are if the file is too big, it takes too long to send and receive, or the application performs compression which reduces the file's quality.
This reason alone highlights why Cloud storage can be beneficial to teams as all devices are directly connected at any time. This provides a solution to all of the issues that have been mentioned above.
Reduced Security Risks
A director's worst nightmare: a rouge employee changes all their passwords and deletes all files before leaving. If your business were to be built on entirely physical computers and storage solutions, this would be an enormous issue. Lost data is a big deal and in many cases, it can break businesses.
This is where having Cloud desktop hosting comes in useful.
With Cloud computing, there is no threat of password lockout. If a user were to change their desktop password on a physical machine, there would be no way of accessing the files that are stored on that machine again. However, if the same situation occurred on a Cloud desktop, an administrator would be able to unlock that account via their admin panel. This mitigates the threat entirely.
On top of this, with Cloud hosting, there is no risk of file loss. Most Cloud desktop hosting providers allow you to perform backups of your desktops and these backups can be scheduled so that they happen automatically. This is handy as it means there is no way your business can lose any valuable data. What's even better is that these backups are useful in case any important files become corrupted.
The Benefits of using On-Premise
Physical Devices
One of the benefits of using on-premise desktops is that you have full access to who sees the data on your devices and where they see this data. This is because your storage devices are physically present rather than being in a remote data centre. This means that your data becomes accessible only through a physical machine which can be turned off with a push of a button or disconnected from a network.
This factor appeals to many directors, as having control is vital to running a business. However, it is important to recognise that most of the Cloud desktop hosting companies keep your data securely stored, usually encrypted and there are usually options to sign in with two factor authentication.
Instant Connection
Another great thing about on-premise desktops is that you can instantly open them up and get to work. There is no need to worry about logging into a server and you don't need to worry about connection speeds either.
This is a major benefit for fast-paced jobs such as photography, graphic design or video editing, where you need to transfer large quantities of data from a camera to a hard drive. Realistically this wouldn't be possible with just Cloud desktops as your Wi-Fi is likely too slow. However, with a physical machine, this process is possible.
The Drawbacks of using the Cloud
Data Leakage
A big fear for anyone using the Cloud to store files is that their data will get leaked and all of their hard work will be pointless. We hear stories all the time about large companies getting hacked and usernames or other personal information getting leaked.
This can be devastating to a business, causing lifelong damage. Not only with lost data but all it takes is one password to not be reset and you'll be right back at square one.  
Fortunately, these sorts of events rarely occur. When they do, the hacked company usually responds with haste by locking people out of their accounts until they reset their password and letting the user know that their service has been hacked.
Denial of Service attacks
A Denial of Service attack or Distributed Denial of Service attack (known as DoS or DDoS) is a malicious attack which comprises flooding a server with packets of data until the server crashes.
These attacks are quite common but these attacks often have intent behind them so most Cloud desktop hosting servers rarely get targeted. Did you know that there is a website where you can see cyber threats live?
The Drawbacks of using on-premise
Setup Costs
Unlike renting a cloud server monthly, with on-premise desktops, there is a large setup cost to get everybody on a desktop. To get similar performance to what you would get with a server, you will need to shed thousands of pounds for on-premise hardware.
File Security
One massive issue with on-premise desktops is that your security is in your own hands. This is a drawback due to the time and knowledge you will need to put in to protect your data. Apart from setup costs, you would need to understand how on-premise desktops work and you would also have to ensure that the correct anti-malware and antiviruses are installed to keep your business safe.
The Summary
From what we have talked about, we can say one thing for sure; the cloud is the way of the future. It is not only expandable, but it is secure and with the rate, at which networking technology is evolving, it will not be long before you can browse a Cloud hosted desktop at the same speeds and latency as you do with modern desktops.